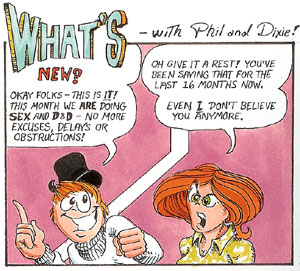 This week we finally talk about Sex and RPGs.
What's New? panel by the incomparable Phil Foglio. See what he's up to at www.studiofoglio.com
Stuff we talked about:
The Wikipedia entry on sexual roleplaying.
Phil Brucato, one of the the great RPG designers, check out his blog.
Vampire: The Masquerade and White Wolf Publishing started in 1991.
Sword & Sorcery's campaign setting Scarred Lands.
The LARP/card game Are You A Werewolf?
The RPG Cthulhutech.
The 7th Sea RPG.
The Deliria RPG.
The Savage Worlds RPG.
Our favorite porn on Kink.com.
Sexy music for your foreplaying:
Trent Reznor & Atticus Ross and Nine Inch Nails
Announcements
My Babylon, is a serial novel about the paranormal and dark desires. The story of a cursed young man who has an intimate view of the Apocalypse. My Babylon weaves elements of urban fantasy, erotic horror, and real-world occult practices, to form a unique personal tale that thrills, terrifies, and even enlightens.
The final episode, Book Five: Beast, is now available in the Amazon Kindle store.
Mid-World Arts now has a tumblr and facebook page. Our good friend Stephan Michael Loy has several new books out, including Isis Wept, which is free in the Amazon Kindle store through June 27th..
We want to review your indie novel. Please email us at geeks (a) geekoutafterdark.com and let us know about your book.
GOAD has a tumblr blog geeksoutafterdark.tumblr.com
Connect with Shade OfRoses at shadeofroses.tumblr.com
Connect with James at, jameslwilber.com, Facebook, Twitter, and tumblr. His blogs about magick are scrollofthoth.com and scrollofthoth.tumblr.com.
Please help the podcast by using the Amazon search window.