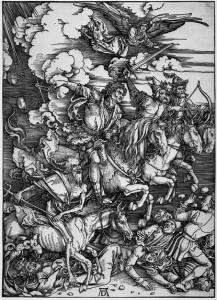 In this, our monthly special edition podcast, we have special guests, Stephan Michael Loy, and Dick Thomas from Mid-World Arts. We talk about the apocalypse in stories. What apocalyptic tale influenced us, why we write about the apocalypse, and our own take on the end times.

We started the show with, Come on Apocalypse, from Feelin' Kinda Patton, by Patton Oswalt
And we finally explain Mid-World Arts.
BOOKS & MOVIES WE TALKED ABOUT
A Canticle for Leibowitz by Walter M. Miller, Jr.
The zombie films of George A. Romero: Night of the Living Dead, Dawn of the Dead, Day of the Dead, Land of the Dead
I Am Legend by Richard Matheson and the film
The Walking Dead by Robert Kirkman the comic and the TV show
Shaun of the Dead starring Simon Pegg
Dan Carlin's Hardcore History podcast
The Doomsday Book by Connie Willis
ANNOUNCEMENTS & CONNECTIONS
Guest Stephan Loy– connect with him at stephanloy.com
Books by Stephan Michael Loy
Mankind rushes toward apocalypse in 2012. Fundamentalists and new age thinkers of all stripes are convinced the world will end on the last day of the 5000-year Mayan Great Cycle. Leveraging that hysteria, Arthur Davidson, a radio evangelist, rises to prominence while promising salvation through him alone. But Davidson guards a startling secret, one that drives him to force the Bible's apocalyptic prophesies to fruition. He procures ten tactical nuclear weapons stolen from a Russian Army facility and attempts to use them to bring about the end of all time.
Harmonic resonance: noise into music, words into literature. Harmonic RES is nine stories in many genres exploring the small truths of who we are as human beings, of why we are here and why we matter. From science fiction to satire, from military fiction to romantic comedy, from short stories to long novellas, Harmonic RES speaks with a unified voice on the enduring question of human nature.
Coming Soon – Isis Wept
Millennia ago, before the rise of the great kingdoms of man, gods walked among mortals as we walk among the beasts of the Earth. From this age comes the most nobel of all love stories, that of Isis and Osiris, immortal king and queen in Abydos, Lower Egypt. osiris is betrayed and murdered by his brother Set, who craves all Osiris owns, especially his beautiful life goddess of a wife. Set usurps Osiris's kingdom and sates his desires in an unwilling Isis, but he has not won in treachery what his delusions assert. Isis focuses all her considerable power to finding the body of her murdered love and returning him to life to exact retribution upon his killer. In the course of this quest, kingdoms fall, armies clash, and the balance of power between gods and men is altered forever.
Dick Thomas is building a website at dickthomasauthor.com. You can email him at dick@dickthomasauthor.com
Coming soon by Dick Thomas, the paranormal thriller Ghostvision
Books by James L. Wilber
My science fiction-cyberpunk-romance short story: Matchmaker, has made #1 on Amazon's free science fiction short stories bestsellers. It's now only 99 cents.
A serial novel about the paranormal and dark desires. The story of a cursed young man who has an intimate view of the end of the world as we know it. My Babylon weaves elements of urban fantasy, erotic horror, and real-world occult practices, to form a unique personal tale that thrills, terrifies, and even enlightens.
My Babylon – Book Two: Rose is coming May 14th
GOAD has a new tumblr blog geeksoutafterdark.tumblr.com
Connect with Shade OfRoses at shadeofroses.tumblr.com
Connect with James at, jameslwilber.com, Facebook, Twitter, and tumblr. His blogs about magick are scrollofthoth.com and scrollofthoth.tumblr.com.
Geeks Out After Dark now has a phone number to call and leave messages and questions for the show. 317-296-3247
Please use the Amazon search window on the right to help support the show.