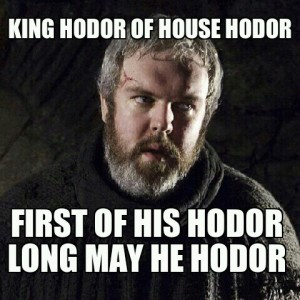 Week six of our discussions about the two biggest show in geekdom – Game of Thrones.
This week we cover Game of Thrones, Season 3, Episode 9: The Rains of Castamere.
You can listen using the player below, subscribe to our RSS feed in your favorite pod-catcher, or find us on iTunes.

And who are you, the proud lord said,
that I must bow so low?
Only a cat of a different coat,
that's all the truth I know.
In a coat of gold or a coat of red,
a lion still has claws,
And mine are long and sharp, my lord,
as long and sharp as yours.
And so he spoke, and so he spoke,
that lord of Castamere,
But now the rains weep o'er his hall,
with no one there to hear.
Yes now the rains weep o'er his hall,
and not a soul to hear.
SHOW NOTES
The movie with Billy Boyd about Scotland's Stone of Scone is called Stone of Destiny. A great flick, you should check it out. The Stone of Scone was returned to Scotland in 1996 with the provision that it will still be used in the coronation of English monarchs. We'll see how that works out.
The movie Leon: The Professional. It was written by the guy who did La Femme Nikita, though it is not based off of that movie and they have dissimilar plots.
Announcements
A serial novel about the paranormal and dark desires. The story of a cursed young man who has an intimate view of the Apocalypse. My Babylon weaves elements of urban fantasy, erotic horror, and real-world occult practices, to form a unique personal tale that thrills, terrifies, and even enlightens.
Book One: Body will be FREE – Tuesday, June 11th.
Book Two: Rose, and Book Three: Risen, are now available in the Amazon Kindle store.
Book Four: Host will be released June 11th.
GOAD has a tumblr blog geeksoutafterdark.tumblr.com
Connect with Shade OfRoses at shadeofroses.tumblr.com
Connect with James at, jameslwilber.com, Facebook, Twitter, and tumblr. His blogs about magick are scrollofthoth.com and scrollofthoth.tumblr.com.
Please help the podcast by using the Amazon search window.