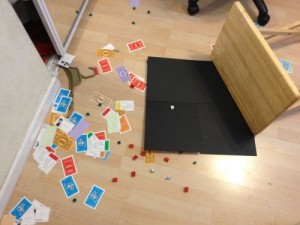 James, Shade, Randy, and Michael talk about board games and the Evangelion Rebuild.
People and things mentioned in the show
Avalanche Press produces many of the old strategy games (Panzer Leader, Battle of the Bulge, Third Reich) once made by Avalon Hill.
Zombies! by Twilight Creations
Hasbro Family Game Night on X-Box
Revolution by Steve Jackson Games
Killer Bunnies in all its incarnations
Betrayal at The House on the Hill
Battlestar Galactica The Board Game
Announcements
Check out randy and Mike's video game blog The Midnight Roost.
Paul Meets the Ghost of Xmas Past by Shade OfRoses, is now available at Amazon, Smashwords, and Kobo.
Check out Michael's new food blog geekseatingout.tumblr.com
Get Underground, a modern retelling of the Hades and Persephone myth, at Amazon, Smashwords, Barnes & Noble, Apple, Kobo, and wherever ebooks are sold.
Become a beta reader for Chasing the Wyrm by emailing geeks@geeksoutafterdark.com.
Both stories and more are a part of A Mid-World Christmas Collection, available at Amazon, Smashwords, Barnes & Noble, Kobo, and soon to be in print.
Check out more great books by Mid-World Arts at our website and on tumblr and facebook.
GOAD has a tumblr blog geeksoutafterdark.tumblr.com
Connect with Doc Randle on Twitter, tumblr, and Facebook and at midnightroost.com
Connect with Shade OfRoses at shadeofroses.tumblr.com and moroluvsgeeks.tumblr.com
Connect with James at, jameslwilber.com, Facebook, Twitter, and tumblr. His blogs about magick are scrollofthoth.com and scrollofthoth.tumblr.com.
Connect with Michael at Twitch or on Twitter.
If you enjoyed this podcast, consider donating a buck-a-show through our Paypal button, or do your shopping through our Amazon search window.
Come hang with us on plug.dj
Our new music is graciously provided by Shoeboxx Recordings. Check out their music on Soundcloud and like them on Facebook. The intro is a selection from Boof (Roboclip Remix) by Real Cosby.