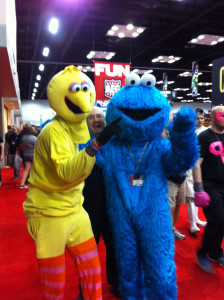 This week James and Shade wrap-up their GenCon coverage.
The numbers are in and this was the largest GenCon ever with attendance up over 20% from last year.
What's going on with Dungeons & Dragons?
Wil Wheaton is getting more people into gaming with his series Tabletop.
Mayfair Games busted out with year with the Firefly board game.
Onyx Path Publishing has taken over the tabletop RPG products for White Wolf.
When you are Indianapolis, check out the Arsenal Game Room
The Interviews
Sean K. Reynolds of Paizo Publishing talked about the Pathfinder Adventure Card Game and Mythic Adventures for the Pathfinder RPG.
Echo Chernik, artist who has contributed to numerous gaming products including Mage: The Ascension, Vampire: The Masquerade, and Shadowrun, See and purchase her artwork at http://www.echo-gallery.com/. Let Echo know that we want a tarot deck on Facebook.
Jason Beane of Malevolent Donut Games showed us his awesome new game, Not Now, Igor! Jason created all of his games through The Game Crafter.
Devon Oratz and Mikaela Barree of End Transmission Games. Their FREE game Phantasm 2010 was nominated for an ENnie Award.
Roderick Robertson senior event volunteer. Learn how to be a volunteer at GenCon at http://www.gencon.com/volunteer/pageprogram.
Announcements
You can now download My Babylon – Book One: Body for free at Smashwords, Barnes & Noble, Apple, Kobo, Scribd, and via Bittorrent. Please let Amazon know that you found it free at those other websites.
James has released the My Babylon Complete Edition containing all five novellas. You can buy it in on Amazon both as a Kindle ebook and in paperback.
Chasing the Wyrm: A Christopher Yan OAA Novel, and Paul Vs. The Vampire are coming soon.
Check out more great books by Mid-World Arts at our website and on tumblr and facebook.
GOAD has a tumblr blog geeksoutafterdark.tumblr.com
Connect with Shade OfRoses at shadeofroses.tumblr.com and http://moroluvssttboys.tumblr.com
Connect with James at, jameslwilber.com, Facebook, Twitter, and tumblr. His blogs about magick are scrollofthoth.com and scrollofthoth.tumblr.com.
If you enjoyed this podcast, consider donating a buck-a-show through our Paypal button, or do your shopping through our Amazon search window.
Our new music is graciously provided by Shoeboxx Recordings. Check out their music on Soundcloud and like them on Facebook. The intro is a selection from Boof (Roboclip Remix) by Real Cosby. Come hangout with the artists and producers of Shoeboxx recordings (and us), at turntable.fm for Fresh Produce Fridays. The end music is Lesser Flamingos by Real Cosby.