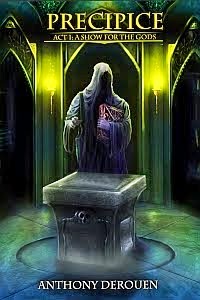 This week James and Shade talk with Anthony DeRouen author of Precipice, Act I of A Show for the Gods.
People and things mentioned in the show
Guild Wars Nightfall was written by veteran author and game designer Jeff Grubb.
Anthony distributes through Createspace.
Rebecca's Reads professional reviews.
Goodreads is a social network for people who like to read.
Audiobook Creation Exchange is service for creating and publishing audiobooks.
You can purchase the paperback of Precipice at Amazon. Purchase the ebook on Smashwords, Barnes & Noble, Kobo, Sony, Apple, and Amazon.
Connect with Anthony at his website, goodreads, facebook, and twitter.
Game of Thrones Cast Announcements
Mace Tyrell – Roger Ashton-Griffiths
Supernatural Announcements
Misha Collins becomes a "star of the show."
Osric Chau returns as Kevin Tran, Mark Sheppard as Crowley, and Jim Beaver as Bobby Singer!
Sherlock Announcements
Shooting has started and there is a trailer
Announcements
You can now download My Babylon – Book One: Body for free at Smashwords, Barnes & Noble, Apple, Kobo, Scribd, and via Bittorrent. Please let Amazon know that you found it free at those other websites.
James has released the My Babylon Complete Edition containing all five novellas. You can buy it in on Amazon both as a Kindle ebook and in paperback.
Chasing the Wyrm: A Christopher Yan OAA Novel, and Paul Vs. The Vampire are coming soon.
Check out more great books by Mid-World Arts at our website and on tumblr and facebook.
GOAD has a tumblr blog geeksoutafterdark.tumblr.com
Connect with Shade OfRoses at shadeofroses.tumblr.com and http://moroluvssttboys.tumblr.com
Connect with James at, jameslwilber.com, Facebook, Twitter, and tumblr. His blogs about magick are scrollofthoth.com and scrollofthoth.tumblr.com.
If you enjoyed this podcast, consider donating a buck-a-show through our Paypal button, or do your shopping through our Amazon search window.
Our new music is graciously provided by Shoeboxx Recordings. Check out their music on Soundcloud and like them on Facebook. The intro is a selection from Boof (Roboclip Remix) by Real Cosby. Come hangout with the artists and producers of Shoeboxx recordings (and us), at turntable.fm for Fresh Produce Fridays. The end music is Lesser Flamingos by Real Cosby.