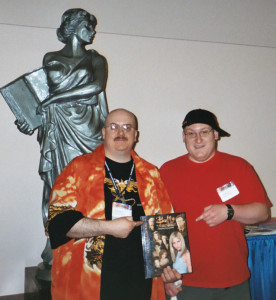 This week, James & Shade tell you the pros and cons of writing for the RPG industry.
Our new music is graciously provided by Shoeboxx Recordings. Check out their music on Soundcloud and like them on Facebook. The intro is a selection from Boof (Roboclip Remix) by Real Cosby. Come hangout with the artists and producers of Shoeboxx recordings (and us), at turntable.fm for Fresh Produce Fridays.

Stuff we talked about:
Get involved with Paizo Publishing through Pathfinder Society, and submit a Pathfinder Society adventure, or enter RPG Superstar.
The 3.5 Private Sanctuary's Know Direction Podcast has recorded some of the Writing For Paizo events.
Get to know Wizards of the Coast through submitting to Dragon and Dungeon Magazine.
21 Questions for creating a character stolen from 7th Sea.
You might like the The Self Publishing Podcast.
See my Rules of Write Club.
Our Review
The Keepers (The Alchemy Series) by Donna Augustine
Announcements
James has joined the Magic Appreciation Tour, a website that helps you find books about magic. My Babylon will be on a virtual book tour starting July 23rd to coincide with the release of the Complete edition. There will also be a print edition of My Babylon coming soon.
Our Mid-World Arts compatriots will be back July 24th, to talk about Military in Science Fiction and Fantasy.
Want us to pimp your artwork or review your indie novel? Please email us at geeks (a) geekoutafterdark.com and let us know about your book.
Mid-World Arts now has a tumblr and facebook page.
GOAD has a tumblr blog geeksoutafterdark.tumblr.com
Connect with Shade OfRoses at shadeofroses.tumblr.com
Connect with James at, jameslwilber.com, Facebook, Twitter, and tumblr. His blogs about magick are scrollofthoth.com and scrollofthoth.tumblr.com.
If you enjoyed this podcast, consider donating a buck-a-show through our Paypal button, or do your shopping through our Amazon search window.
The end music is Lesser Flamingos by Real Cosby.