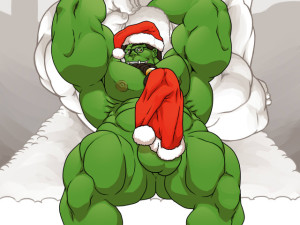 James, Shade, Randy, and Michael talk about geek sex! Or as we like to call it, the stocking-stuffer episode.
People and things mentioned in the show
All of these links are NSFW, but you knew that.
For orc and other fantasy porn http://gayngelsanddemen.tumblr.com/
For sex toys online –  Extreme Restraints and Good Vibrations. In store – Lover's Lane or Cirilla's.
Learn how to tie from Two Knotty Boys.
How to make your own spreader bar.
Check out Lelo vibrators, and the Hitachi Magic Wand.
Cane – IAC for all your spanking needs. Shade likes the Icicles whip.
For the best in porn Kink.com. See samples at http://www.bdsmstreak.com
James' porn blog is avebabalon.tumblr.com.
Get your furry porn at Fur Affinity.
Shade and James prefer lubes and oils by Shunga. Randy and Mike use Astroglide.
For shaving James and Shade use Coochy products.
Laurell K. Hamilton writes urban fantasy with polyamorus relationships.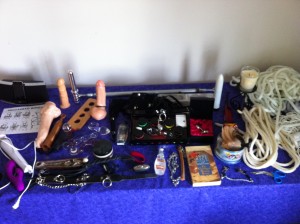 Announcements
Randy is live streaming on Twitch as Dr. Randle.
Micheal talks about the Walking Dead video game at The Midnight Roost.
Paul Meets the Ghost of Xmas Past by Shade OfRoses, is now available at Amazon, Smashwords, and Kobo.
Get Underground, a modern retelling of the Hades and Persephone myth, at Amazon, Smashwords, Barnes & Noble, Apple, Kobo, and wherever ebooks are sold.
Both stories and more are a part of A Mid-World Christmas Collection, available at Amazon, Smashwords, Barnes & Noble, Kobo, and soon to be in print.
Check out more great books by Mid-World Arts at our website and on tumblr and facebook.
GOAD has a tumblr blog geeksoutafterdark.tumblr.com
Connect with Doc Randle on Twitter, tumblr, and Facebook and at midnightroost.com
Connect with Shade OfRoses at shadeofroses.tumblr.com and moroluvsgeeks.tumblr.com
Connect with James at, jameslwilber.com, Facebook, Twitter, and tumblr. His blogs about magick are scrollofthoth.com and scrollofthoth.tumblr.com.
Connect with Michael at Twitch or on Twitter.
If you enjoyed this podcast, consider donating a buck-a-show through our Paypal button, or do your shopping through our Amazon search window.
Come hang with us on plug.dj
Our new music is graciously provided by Shoeboxx Recordings. Check out their music on Soundcloud and like them on Facebook. The intro is a selection from Boof (Roboclip Remix) by Real Cosby.