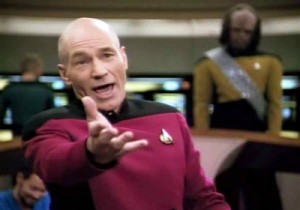 This week James, Shade, and Randy talk about their favorite captains.
People and things mentioned in the show
Not mentioned on the show but we highly recommend watching the documentary The Captains written and directed by William Shatner. You can find it on Netflix.
Admiral Adama from Battlestar Galactica (reboot)
Johnny Crichton of Farscape
Malcolm Reynolds of Firefly
Captain Nemo, 20,000 Leagues Under the Sea by Jules Verne
Han Solo, Star Wars
Captain Avatar, Star Blazers (Space Battleship Yamato)
Jack Sparrow, Pirates of the Caribbean
Turanga Leela, Futurama
John Sheridan. Babylon 5
James Tiberius Kirk, Star Trek (TOS)
Jean Luc-Picard, Star Trek: The Next Generation
Benjamin Sisko, Star Trek: Deep Space Nine
Kathryn Janeway, Star Trek Voyager
Johnathan Archer, Star Trek: Enterprise
Announcements
Look forward to Randy's live blogging of Dark Space and as always check out his game coverage on the Midnight Roost.
Please leave a review for Paul Vs. The Vampire by Shade OfRoses. Get your copy for free Thanksgiving weekend, Nov. 28 through the 30th.
You can now download My Babylon – Book One: Body for free at Amazon. Please download a copy to help me move up the charts.
James has released the My Babylon Complete Edition containing all five novellas. You can buy it in on Amazon both as a Kindle ebook and in paperback.
Get the first of Stephan Michael Loy's Christmas tales, A Conroy Christmas, on Amazon. A Conroy Christmas will be a part of a Mid-World Arts Christmas collection coming soon including stories by Steve, James, and Shade.
Check out more great books by Mid-World Arts at our website and on tumblr and facebook.
GOAD has a tumblr blog geeksoutafterdark.tumblr.com
Connect with Doc Randle on Twitter, tumblr, and Facebook and at midnightroost.com
Connect with Shade OfRoses at shadeofroses.tumblr.com and moroluvssttboys.tumblr.com
Connect with James at, jameslwilber.com, Facebook, Twitter, and tumblr. His blogs about magick are scrollofthoth.com and scrollofthoth.tumblr.com.
If you enjoyed this podcast, consider donating a buck-a-show through our Paypal button, or do your shopping through our Amazon search window.
Our new music is graciously provided by Shoeboxx Recordings. Check out their music on Soundcloud and like them on Facebook. The intro is a selection from Boof (Roboclip Remix) by Real Cosby. Come hangout with the artists and producers of Shoeboxx recordings (and us), at turntable.fm for Fresh Produce Fridays. The end music is Lesser Flamingos by Real Cosby.