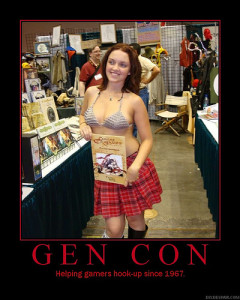 This week James, Shade and special guest Doc Randle talk about the new Doctor and what to do and what not to do at GenCon.
The new Doctor is…. Peter Capaldi, known for the TV show The Thick of It.

Stuff at GenCon
Mikado Japanese Restaurant – 148 S. Illinois St.
Buca di Bepo – 35 N. Illinois St.
Slippery Noodle Inn – 372 S. Meridian
Indian Garden – 207 N. Delaware
Rope Bondage Workshop (James & Shade will be at the Friday night event)
Indianapolis Children's Museum
Indianapolis State Museum is hosting a Star Wars exhibit.
JOIN JAMES & SHADE @ GENCON
We are both running events at GenCon, plus we're hosting these special meet-ups.
Annual Pre-GenCon Drunken Piss Up
Wednesday, August 14th @ 8:00 PM
Join us for the Burlesque Bingo Bango Show at Indy's White Rabbit Cabaret. Play some sexified Bingo with the fabulous Muncie Brothers and the tantalizing Alabaster Betty. Expect comedy, dancing, and crazy prizes.
The White Rabbit Cabaret is in the heart of Indy's newest entertainment district–Fountain Square. It's definitely worth the short drive or cab ride form downtown to experience the restaurants and clubs, like, New Day Meadery, Fountain Square Brewing Co., and Santorini Greek Kitchen.
The White Rabbit Cabaret is at 1116 Prospect Street. Doors open at 8 PM, show starts around 10 PM.
Capo's Banquet
Saturday, August 17th @ 7:00 PM
Join us at Buca di Bepo in downtown Indy to celebrate our event Honor Amongst Thieves. Honor is a tribute to gangster films and old school City of Greyhawk. You don't need to be signed up for the event to share some dinner and talk about the good old days of Dungeons & Dragons.
Please RSVP by Wednesday, August 14th by emailing geeks@geeksoutafterdark.com. All participants pay their own way.
Buca di Bepo is at 31 N. Illinois Street
GENCON ALERT!
It has been reported by Derek Guder the GenCon Event Program Manager that thousands of events will be cut from the onsite program due to space constraints. The events most likely to be cut are the ones that are sold out. In related news, LaViz has reported there will be no GenCon app this year.
Remember, even though an event says it's sold out, there is always a good chance of having no-shows. In my experience of over a decade of running RPGs at conventions, I can count on one hand the number of times all of the pre-registered players showed. If you want to get into our events or any others, please bring generic tickets and more than likely we can find a seat for you.
Luckily, some GenCon fans have created web based app – http://gencon.bloodbowldigital.com/. Bookmark that page to help you find events at GenCon.
Announcements
Go to Doc Randle's blog the Midnight Roost to read his thoughts on video games and his special coverage of the new Smash Bros.
You can now download My Babylon – Book One: Body for free at Smashwords, Kobo, Scribd, and via Bittorrent.
James has released the My Babylon Complete Edition containing all five novellas. You can buy it in on Amazon both as a Kindle ebook and in paperback.
Check out more great books by Mid-World arts at our website and on tumblr and facebook.
GOAD has a tumblr blog geeksoutafterdark.tumblr.com
Connect with Shade OfRoses at shadeofroses.tumblr.com
Connect with James at, jameslwilber.com, Facebook, Twitter, and tumblr. His blogs about magick are scrollofthoth.com and scrollofthoth.tumblr.com.
If you enjoyed this podcast, consider donating a buck-a-show through our Paypal button, or do your shopping through our Amazon search window.
Our new music is graciously provided by Shoeboxx Recordings. Check out their music on Soundcloud and like them on Facebook. The intro is a selection from Boof (Roboclip Remix) by Real Cosby. Come hangout with the artists and producers of Shoeboxx recordings (and us), at turntable.fm for Fresh Produce Fridays. The end music is Lesser Flamingos by Real Cosby.