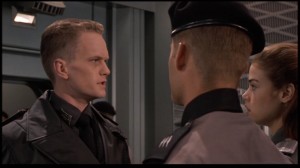 James and Shade are once again we are joined by our fellow Mid-World Arts writers, Stephan Michael Loy and Dick Tomas. We talk about the military in science fiction and fantasy. What's good, what's bad, and what we write.

Stuff we talked about:
You don't need links to Star Trek, Star Wars, and Lord of the Rings.
"War is an extension of politics," is a quote from military theorist Carl von Clausewitz.
TV Series, Movies, & Books
Author Tom Clancy
The Black Company by Glen Cook
Third World War August 1985 by Sir General John Hackett
Starship Troopers by Robert Heinlein and the movie
Inside Delta Force by Eric L. Haney
Announcements
Steve Loy has a bunch of new books out since he last joined us, including: Isis Wept and Shining Star. Learn about those books and more at his website.
Dick Thomas has a blog where he reviews books and movies. He has announced the official release date for his novel Ghostvision is August 31st.
James has released the My Babylon Complete Edition containing all five novellas. You can buy it in on Amazon both as a Kindle ebook and in paperback. I also talked about my current project Chasing the Wyrm – A Christopher Yan OAA novel.
Mid-World Arts now has a tumblr and facebook page.
GOAD has a tumblr blog geeksoutafterdark.tumblr.com
Connect with Shade OfRoses at shadeofroses.tumblr.com
Connect with James at, jameslwilber.com, Facebook, Twitter, and tumblr. His blogs about magick are scrollofthoth.com and scrollofthoth.tumblr.com.
If you enjoyed this podcast, consider donating a buck-a-show through our Paypal button, or do your shopping through our Amazon search window.
Our new music is graciously provided by Shoeboxx Recordings. Check out their music on Soundcloud and like them on Facebook. The intro is a selection from Boof (Roboclip Remix) by Real Cosby. Come hangout with the artists and producers of Shoeboxx recordings (and us), at turntable.fm for Fresh Produce Fridays. The end music is Lesser Flamingos by Real Cosby.