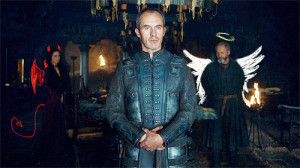 Week six of our discussions about the two biggest show in geekdom – Game of Thrones.
This week we cover Game of Thrones, Season 3, Episode 9: Mhysa.
You can listen using the player below, subscribe to our RSS feed in your favorite pod-catcher, or find us on iTunes.

Show Notes
Shade and James talked about the movie Cleopatra (1963). You should watch it.
Game of Thrones shoots on location in Ireland, Iceland, Morocco, and Malta.
Music for the final scene and all of season three was composed by Ramin Djawadi.
Announcements
Next episode we will have coverage of E3 and the state of video games in general. After that, sex in RPGs, and more stuff to appeal to your fandom heart.
To help our fellow indie writers, James & Shade will be reviewing one book per month from an independent author. Please email us at geeks@geeksoutafterdark.com if you have a book you would like us to review.
My Babylon, is a serial novel about the paranormal and dark desires. The story of a cursed young man who has an intimate view of the Apocalypse. My Babylon weaves elements of urban fantasy, erotic horror, and real-world occult practices, to form a unique personal tale that thrills, terrifies, and even enlightens.
Book One: Body will be FREE , Tuesday, June 11th, to coincide with the release of Book Four: Host.
Book Two: Rose, and Book Three: Risen, are now available in the Amazon Kindle store.
Also free June 11th, two books by our compatriot Stephan Micheal Loy.
Last Days and Times, a thriller about the end of the world, and Harmonic RES, a collection of sci-fi short stories.
GOAD has a tumblr blog geeksoutafterdark.tumblr.com
Connect with Shade OfRoses at shadeofroses.tumblr.com
Connect with James at, jameslwilber.com, Facebook, Twitter, and tumblr. His blogs about magick are scrollofthoth.com and scrollofthoth.tumblr.com.
Please help the podcast by using the Amazon search window.