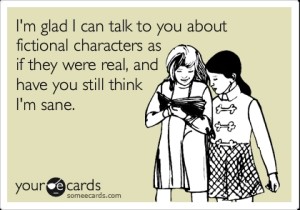 James, Shade, Randy, and Michael discuss their favorite fictional characters.
People and things mentioned in the show
There's a new fifteen minute Game of Thrones season 4 trailer.
Paul Bettany will be playing The Vision in the next Avengers movie.
Part two of BioShock Infinite add-on Burial at Sea announced for March 25th.
A Nintendo Direct announcement has been called for February 13th.
Piers Anthony continues his Xanth series with Board Stiff
Favorite Characters
Shade – Simon, Lord of the Flies by William Golding
Michael – Harrison Bergeron from the short story of that name by Kurt Vonnegut
James – Tyler Durden from Fight Club by Chuck Palahniuk
Randy – Sherlock Holmes
Shade – John McClane from Die Hard
Michael – Eddie Dean from Stephen King's The Dark Tower
James – Johannes Cabal the Necromancer from the book of the same name by Johnathan L. Howard
Randy – Dr. Who
Shade – Jilly Coppercorn from Charles DeLint's Newford stories
Michael – Ellen Ripley from Aliens
James – Tyrion Lannister from Game of Thrones
Randy – Henry Townshend from Silent Hill 4: The Room

Shade – Buffy the Vampire Slayer
Michael – Kanji Tatsumi from Persona 4
James – Michel Grau (Legio) from My Babylon
Randy – Mordin Solus from Mass Effect
Announcements
Check out Randy and Mike's video game blog The Midnight Roost.
Visit Michael's new food blog geekseatingout.tumblr.com
Chasing the Wyrm: A Christopher Yan Agent of the Office of Arcane Affairs novel is coming in March and will be open world copy-left.
Paul Meets Vs. The Vampire by Shade OfRoses, is now available at Amazon.
Paul Meets the Ghost of Xmas Past by Shade OfRoses, is now available at Amazon, Smashwords, and Kobo.
Check out more great books by Mid-World Arts at our website and on tumblr and facebook.
Like the Geeks Out After Dark re-vamped facebook page and Google+ page
GOAD has a tumblr blog geeksoutafterdark.tumblr.com
Connect with Doc Randle on Twitter, tumblr, and Facebook and at midnightroost.com
Connect with Shade OfRoses at shadeofroses.tumblr.com and moroluvsgeeks.tumblr.com
Connect with James at, jameslwilber.com, Facebook, Twitter, and tumblr. His blogs about magick are scrollofthoth.com and scrollofthoth.tumblr.com.
Connect with Michael at Twitch or on Twitter.
If you enjoyed this podcast, consider donating a buck-a-show through our Paypal button, or do your shopping through our Amazon search window.
Come hang with us on plug.dj
Our new music is graciously provided by Shoeboxx Recordings. Check out their music on Soundcloud and like them on Facebook. The intro is a selection from Boof (Roboclip Remix) by Real Cosby.