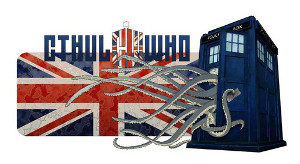 Week five of our discussions about the two biggest shows in geekdom – Doctor Who and Game of Thrones.
We cover Game of Thrones, Season 3, Episode 8: Second Sons, and Doctor Who, Season 7, Episode 13: The Name of the Doctor.
You can listen using the player below, subscribe to our RSS feed in your favorite pod-catcher, or find us on iTunes.

Show Notes
Find out about the Great Intelligence, Yog-Sothoth, and John Hurt.
Yes there will be a Christmas Special. Yes, Matt Smith will be the Doctor in season 8. The 50th anniversary special will air the 23rd of November. CORRECTION: BBC has confirmed that Matt Smith's last episode will be the Christmas special.
Why The Mountain is John Wesley Hardin.
Announcements
FREE – Tuesday, May 28th
A serial novel about the paranormal and dark desires. The story of a cursed young man who has an intimate view of the end of the world as we know it. My Babylon weaves elements of urban fantasy, erotic horror, and real-world occult practices, to form a unique personal tale that thrills, terrifies, and even enlightens.
MY BABYLON – BOOK TWO: ROSE – Now available in the Kindle store.
MY BABYLON – BOOK THE: RISEN coming May 28th.
Shade is a guest on the new Scroll of Thoth Podcast on Pagan Sexuality.
GOAD has a tumblr blog geeksoutafterdark.tumblr.com
Connect with Shade OfRoses at shadeofroses.tumblr.com
Connect with James at, jameslwilber.com, Facebook, Twitter, and tumblr. His blogs about magick are scrollofthoth.com and scrollofthoth.tumblr.com.
Please help the podcast by using the Amazon search window.