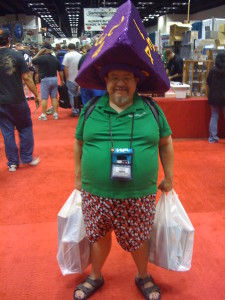 James, Shade, Randy, and Michael give you tips to be a better game player.
People and things mentioned in the show
James has that other thing with the guy.
Gold's Gym wants transgender people to, "Conform like everyone else."
Masque of the Red Death is now available on DriveThru RPG.
Hearthstone is out of beta.
JoJo's Bizarre Adventure: All Star Battle is coming to the US.
Announcements
Check out Randy and Mike's video game blog The Midnight Roost.
Visit Michael's new food blog geekseatingout.tumblr.com
To celebrate the arrival of  a long awaited spring my short story, Underground, is on sale at Amazon for only 99 cents!
Chasing the Wyrm: A Christopher Yan Agent of the Office of Arcane Affairs novel is coming in March and will be open world copy-left.
Paul Meets Vs. The Vampire by Shade OfRoses, is now available at Amazon.
Paul Meets the Ghost of Xmas Past by Shade OfRoses, is now available at Amazon, Smashwords, and Kobo.
Check out more great books by Mid-World Arts at our website and on tumblr and facebook.
Like the Geeks Out After Dark re-vamped facebook page and Google+ page
GOAD has a tumblr blog geeksoutafterdark.tumblr.com
Connect with Doc Randle on Twitter, tumblr, and Facebook and at midnightroost.com
Connect with Shade OfRoses at shadeofroses.tumblr.com and moroluvsgeeks.tumblr.com
Connect with James at, jameslwilber.com, Facebook, Twitter, and tumblr. His blogs about magick are scrollofthoth.com and scrollofthoth.tumblr.com.
Connect with Michael at Twitch or on Twitter.
If you enjoyed this podcast, consider donating a buck-a-show through our Paypal button, or do your shopping through our Amazon search window.
Come hang with us on plug.dj
Our new music is graciously provided by Shoeboxx Recordings. Check out their music on Soundcloud and like them on Facebook. The intro is a selection from Boof (Roboclip Remix) by Real Cosby.